This site features ads and affiliate content. Please see our disclosure.
30 Low Carb Recipes to Help You Burn Fat and Lose Weight Fast
Hello bacon lovers and keto dieters. There is this fear of bacon that has been around for years.
And I have to admit, it took me a while to accept bacon as an option in a low carb high fat diet.
But when you choose the right kind of bacon to eat and restrict carbs on your ketogenic diet, you can easily burn fat.
Isn't that great news?
So I've of course decided to do another roundup on awesome low carb recipes.
But this time, based on a bacon theme that any bacon lover would appreciate. 
Click on the links for more info on how to make these recipes.
And be sure to double check all ingredients to confirm they are suited to your dietary needs before digging in.
Pin it for later!
30 Low Carb Bacon Recipes to Help You Burn Fat and Lose Weight Fast
1. Paleo Meatloaf with Bacon & Balsamic Onions by Eat Drink Paleo
To make this delicious meal keto, be sure to swap out the mayonnaise with eggs and olive oil as directed in the recipe.
And it might be a good idea to do without the carrot too.
Image & recipe from Eat Drink Paleo
2. Low Carb Chicken Cordon Bleu Casserole by Homemade Interest
3. Spicy Deviled Eggs by Savory Tooth

Click Here to Get Started on The Keto Beginning Now!

Image & recipe from Fat for Weight Loss
9. Spaghetti Squash with Bacon and Parmesan by Skinny Taste
Image & recipe from Skinny Taste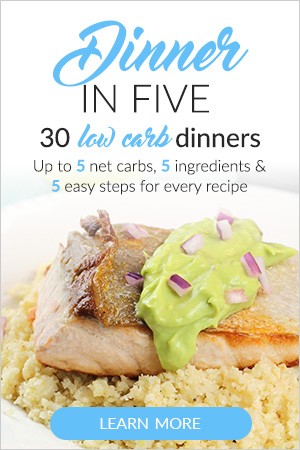 Image & recipe from Low Carb Maven
11. Bacon Chicken Alfredo Squash Noodle Bake by Beauty and the Foodie
12. Chicken Bacon Ranch Casserole by Joyfilled Eats
13. Braised Cabbage with Kielbasa and Bacon by The Bettered Blondie
14. Low Carb Chicken Zucchini Enchilada by Primavera Kitchen
Image & recipe from Primavera Kitchen
15. Baked Pesto Stuffed Chicken Breast with Bacon by Wholesome Yum
16. Garlic and Bacon Green Beans by Julia's Album
17. 3-Ingredient Bacon and Egg Breakfast Muffins by Real Balanced
Image & recipe from Real Balanced
19. Keto Breakfast Tacos by ruled.me
20. Stuffed Portobello Mushrooms by Savory Tooth
Image & recipe from Savory Tooth
22. Bacon Spaghetti Squash Fritters by Julia's Album
23. Avocado Bacon and Eggs by Lil Luna

Low Carb Bacon Wrapped Delights
25. Easy Bacon Wrapped Scallops with Balsamic Mayo Sauce by Savory Tooth
Image & Recipe from Savory Tooth

Image & recipe from A Spicy Perspective
27. Bacon Wrapped Jalepeno Peppers by Savory Tooth
Image & recipe from Savory Tooth
28. Bacon Wrapped Cream Cheese Stuffed Chicken by Homemade Hooplah
Image credit: Spend With Pennies
30. Bacon Wrapped Meatloaf (Mini Meatloaf) by Self Proclaimed Foodie
Image credit Self Proclaimed Foodie
Keto and Clean Eating Products for You: